Press Release
LAUNCHING PROJECT "THE LITTLE GREEN PARK IN THE CITY" & OPENING "THE GREEN PARK IN MY SCHOOL" DRAWING COMPETITION

In the context, the air quality in urban areas in Vietnam is increasingly alarming and the percentage of trees in large cities like Hanoi is only 1/5 to 1/20 in comparison with the standard of green trees. of the world. Vietnam Students Development & Support Center and Canon Vietnam Co., Ltd. decided to jointly launch the project "The little green park in the the city" with the aim of joining hands with the urban areas creates more green parks in order to increase the rate of green trees, minimize air pollution, protect the environment, and at the same time raise people's awareness of environmental protection issues; contribute to join hands with Vietnam to complete the sustainable development goals.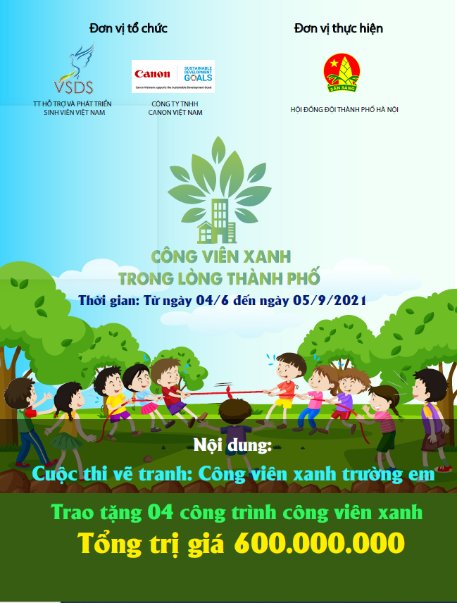 Corporate Social Responsibility Activities
Introduction
" Để có thông tin tuyển dụng chi tiết, xin mời xem tại giao diện Tiếng Việt
For more detail about Recruitment Information, please login Vietnamese interface "