News

In the context, the air quality in urban areas in Vietnam is increasingly alarming and the percentage of trees in large cities like Hanoi is only 1/5 to 1/20 in comparison with the standard of green trees. of the world.
Vietnam Students Development & Support Center and Canon Vietnam Co., Ltd. decided to jointly launch the project "The little green park in the the city" with the aim of joining hands with the urban areas creates more green parks in order to increase the rate of green trees, minimize air pollution, protect the environment, and at the same time raise people's awareness of environmental protection issues; contribute to join hands with Vietnam to complete the sustainable development goals.
The project includes the following main activities: A drawing competition for elementary school students; building and donating green parks to schools, hospitals, and public areas in urban areas; Propaganda and educate on environmental protection and volunteer activities to support schools to raise awareness as well as practice environmental protection practices. In 2021, the project will be implemented in 4 urban districts of Hanoi including: Ba Dinh district, Hai Ba Trung district, Hoan Kiem district and Dong Da district.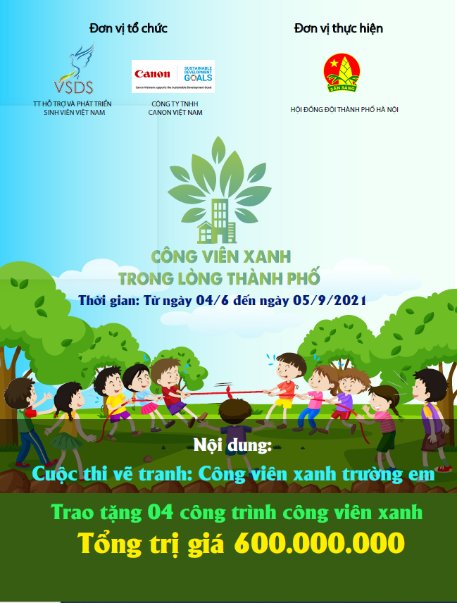 In the scale of project, on 4 Jun, 2021, the drawing competition with the theme "The Green park in our school" officially started. The drawing contest is aimed at students from elementary schools in the four urban districts as above. In the contest picture, students will show a small green park in the school they are studying to create a green space in the school, a fresh environment for learning and contribute to environmental protection, time to raise awareness of students as well as teachers and parents in environmental protection issues. The organizers will select 4 excellent works from 4 schools to award. Each prize is worth 2 million VND with a certificate of merit, a certificate of participation in the Competition of the Organizing Committee. In particular, through the contest, the winners of the schools will be awarded a green park project with an average value of 150 million VND. The contest will take place from 4 Jun, 2021 to 1 Jul, 2021.
Vietnam Students Development & Support Center and Canon Vietnam Co., Ltd. hope that project will expand more scale not only in Hanoi but also in other urban areas of Vietnam, contributing to preserve and protect sustainable environment and the Sustainable Development Goals.
For detail information, please contact:

1. Vietnamese Students Development and Support Center
Address: No.64 Ba Trieu, Hoan Kiem, Hanoi
Phone: 024 626318557; Fax: 04 38263874
2. General Director Office, Canon Vietnam Co., LTD
Address: Lot A1, Thang Long Industrial Park, Dong Anh, Hanoi
Phone: 024 3881 2111; Fax: 024 3881 1284