News

Together with "Kyosei" philosophy of corporate and with the purpose of actively contributing for Vietnam's the Sustainable Development Goals (SDGs) in particular, the world's SDGs in general, we make continuous effort to produce "Made in Vietnam" products that ensure high quality and friendly with the environment, satisfy the needs of customers as well as contribute to the industrialization and modernization of Vietnam.
At the same time, we have implemented many activities to contribute for SDGs of Vietnam through 3 themes: Preserving and protecting global environment, responding to employees as a good global citizen, and responding to society as a leading Japanese enterprise.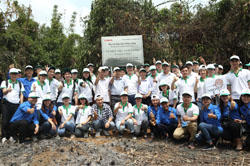 Planting forest "For a green Vietnam"
Canon Vietnam is always leading in protecting global environment. Inside factory, we have a system for environment protection by classifying wastes at source; operating waste water treatment plant; holding many projects and program on environment protection for employees… For Vietnam environment and biodiversity, we have carried out many projects such as planting forest "For a green Vietnam", biodiversity protection, environment education and propaganda, etc. We are together with Vietnam executes SDGs No. 3; 6, 7, 12, 13, 15 & 17.

Pupil are excited in environment education program

Employees participate in voluntary activities to preserve biodiversity

The Eco-Products Fair attracts a lot of employees

Employees won awards in the program "Unlimited Challenges" which held in Environment Month
Ensure healthy lives and promote well-being for all at all ages

Ensure access to water and sanitation for all

Ensure access to affordable, reliable, sustainable and modern energy

Ensure sustainable consumption and production patterns

Take urgent action to combat climate change and its impacts

Conserve and sustainably use the oceans, seas and marine resources

Sustainably manage forests, combat desertification, halt and reverse land degradation, halt biodiversity loss

Revitalize the global partnership for sustainable development