Application for employment
Come to Canon Vietnam for stable career development !!!

Professional working environment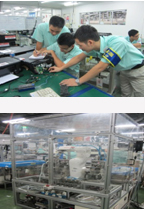 Working with Japanese experts and young, dynamic and highly responsible staff.
Opportunity to learn and approach to modern technology to motivate creativeness, especially for engineering staff.
Broaden and improve language skills (English, Japanese), management & other soft skills.

On job training

program to develop and improve ability and working skills.
⇒
Toward a common goal:
raising quality of products & working efficiency.
Self-development opportunities
Abroad-training and engineering
training opportunities – Engineering staff

Chance to join 1-year training-on-job in Japan with your great effort and luck.
Accessing to modern technology and advanced working styles of developed countries such as Japan, China, Thailand…
Opportunities to get advanced training courses such as mold die designing, part designing, Automation, robot control, PIC – Micro computer……

Learning specialty, culture and community of modern countries.
Freely learning, practicing and getting foreign language certificate during abroad training course.
Soft skills learning opportunities
– Admin staff

Chance to study soft skills such as reporting, presentation, management, negotiation, making plan and sharing information, effective communication, team-work, etc……..
Chance to attend special language class such as English, Japanese.
Chance to become a professional staff of some Department such as Human Resources (HR), Accounting (ACC), Purchasing (PUR), Production control (PDC), Planning (Plan), etc…..