News
Active working environment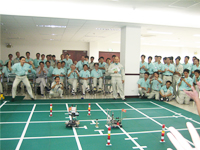 We commit to bring a professional and active working environment to all CVN employees. With modern equipment, work together with us, you are free to uphold your full creativeness and your breaking down ability in order to serve General Goal of the Company. We are expecting for Potential Candidates with self - controlled, creative and innovative mentality for chasing the purpose "Making customers' satisfaction with completely assured qualities and competitive price". Some activities such as Chie-tech (Implementing innovative ideas in order to enhance effectiveness of production), Kaizen (Improving activities), improving effectiveness of productivity innovation activities are regularly held in order to search and apply into practice with effective working method. We always highly respect and appreciate creative ideas serving for improving effectiveness of productivity innovation activities of CVN employees and maximum support in order that these ideas will come true.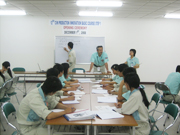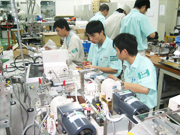 Training opportunities and developing individual skills
According to production demands, we always have to innovate and upgrade qualification in order to meet these demand, we consider that these are the opportunities to change and challenge. We hope that company's development is the achievement of process for exerting your self of all collective Employees because we know that excellent individuals will create the excellent company. In annual internal training programs, programs for equipping and improve professional qualification, soft skills...are the factors that we are always concentrating to make Company employees get used to industrial production environment. In addition, oversea business trips and long term training courses in Japan, Thailand, China are the great opportunities for Employees to access to technology and modern working style applied in practical jobs as well as building up international working environment in Canon Vietnam to contribute for Development of individual, company and society.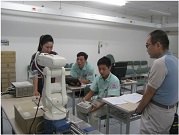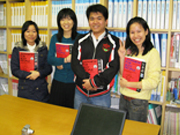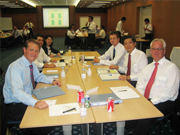 Young & large scale company with fair opportunities to all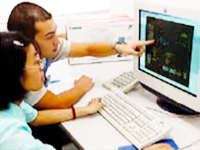 Being established in 2001, we also have had fast and stable developing steps with title "No.1 exporting company in the North of Vietnam". With current company scale (over 22,000 employees and more than 90 Departments located in 3 factories of Canon Vietnam Co., Ltd.), we really bring to Employees great opportunities to develop your career and yourselves. Challenges are made by Canon Vietnam and you solve them by yourselves.We are expecting Employees will spend their deeply confidential spirit for Company development and will have evaluation and appropriate and punctuation encouragement for excellent employees.
International working environment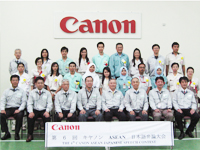 This is the opportunity for you to enhance your communicational ability. Daily communicating in foreign languages (English, Japanese,...), you will recognize that you are getting more and more gradually confident in activities inside factory and outside society: communicational, presentational, negotiating skills in foreign languages are the soft skills that you can completely have successful chance when you work together with us. Be confident and let's join in Canon Vietnam together.